Apple Pie – 9 in.
$26.00
Homemade fruit pies – varieties include apple, apple/raspberry, cherry, peach, peach/raspberry.
Not Avaliable Online. Please Contact the Vendor directly.
Clicking the Vendor's name or logo below will take you to their page.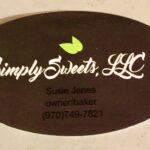 Description
All pies are made with a homemade crust and fruit fillings with sugar, apples.
Brand
Simply Sweets, LLC.
Delicious home-baked pastries using simple ingredients. Reach Simply Sweets at 970-749-7821